Towing Company Questions, Colorado Springs
How do I get a car towed?
Do I Have to pay for it?
In most cases, the complex, business, or homeowner's association will have some sort of contract with a towing service who will come and tow the vehicle parked where it shouldn't be parked. There should be no cost to you, as the towing company will collect a towing charge and storage fee from the owner when they come to retrieve it.
There should be a sign or some sort of warning visible to the offending vehicle letting them know that they run the risk of being towed for parking there without a permit or required proof. If there is not one, Colorado Springs towing service, Bugs Towing will provide one.
What if I live in a house?
Is the vehicle blocking your driveway? Parked in your driveway? Unfortunately, unless otherwise specified, the street is considered public domain and you can't just have vehicles towed away due to them being an annoyance. However, you can contact the police if you feel a tow is justified. In that case, if they feel that the vehicle does deserve a tow, they will contact a local tow company and have the vehicle removed.
What if I need it done quickly?
If you have an illegally parked vehicle on your property, call Bugs Towing, we will have it removed immediately! We will also provide free signage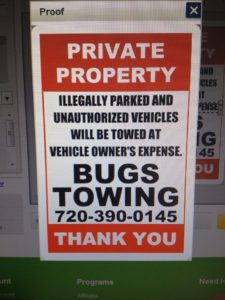 and patrolling so this doesn't keep happening again!
How Do I Get My Car Back?
Was your car towed from a business, apartment complex, or due to HOA violation?
There should be some sort of signage near the spot your vehicle was towed from that has towing company's business information on it. If you do not see one, contact the property manager, and they should be able to give you the proper information on how/where to retrieve your vehicle.
Was your car towed due to a Police Investigation?
If so, you should be notified by the agency on when you can pay the towing fees and pick up your vehicle. You may also contact the CSPD Impounded Vehicle Online Search for more information.
Was your car towed from a Private property?
If your vehicle was towed from private property, contact the CSPD Impounded Vehicle Online Search and they will be able to tell you which company towed your vehicle. You can then contact that towing company to make arrangements to have the vehicle released to you.
How much does a tow cost?
This is a very direct question that should help you determine the trustworthiness of your prospected towing company. Here at Bugs Towing, we will be fully transparent with you about your estimated towing costs, and any additional fees that could be included. Most tows usually consist of a hook-up fee and travel fee based on the distance you are looking to be towed. Sometimes there will be a storage fee, but all tows are not created equal, and we will try to help you out in the best manner possible.
Where are you towing my car?
Most of the time, our response is very simple: "Well, where would you like it to go?" Bugs towing will take you where you need to go within Colorado Springs, as well as any of the surrounding areas if necessary. We also know plenty of good mechanics and can make recommendations based on the cause of your towing situation.
What Other Services Do Your Offer?
For the best tow truck and 24/7 roadside assistance services in Colorado Springs, look no further! Here at Bugs towing, we have the equipment and the expertise to help you with every scenario possible. We will help you with a basic auto tow, help you out with emergency road services, tow a motorcycle, junk car removal, flatbed towing, car lockout, long distance towing, tire change and repair, jump start and charge your battery, and we
will even tow and transport a house!
Bugs towing will also safely transport heavy equipment from any rental place to a construction site for the lowest price possible. Give us a call 720-390-0145, we have a driver standing by all through Colorado Springs ready to go.